Information
3M Speedglas 9100XX FX Adflo Air Fed Welding Helmet 547725
The 3M Speedglas 9100XX FX Adflo Air Fed Welding Helmet, with a lighter li-ion battery, the 3M Speedglas Adflo Powered Air unit and the Speedglas 9100XX FX Welding Helmet combines to create the perfect solution for welders in demanding work situations where filtered air is a necessity for safe and comfortable working conditions.
The 3M Speedglas Adflo is the leading air fed welding helmet in the market and the top choice for professional welders.
Lightweight and Comfortable
Welding Filter Shades 5, 8, 9-13
Extra Large Viewing Area: 73mmx107mm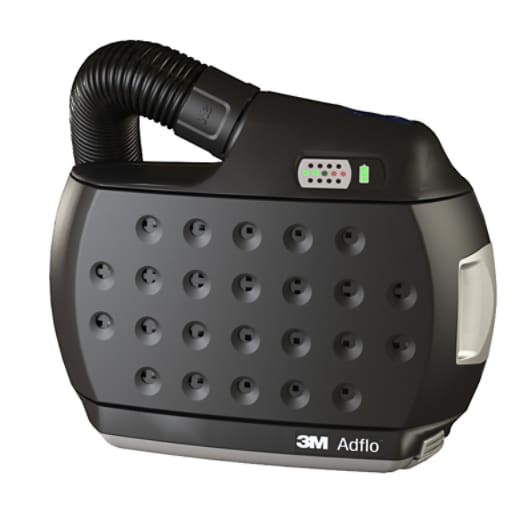 Specifications
| | |
| --- | --- |
| Battery Life | Turbo: approx. 7 - 9 Hours |
| Battery Type | Lithium-Ion |
| Cartridge or Filter Type | Particle filter (gas filter available as spare part) |
| NPVI Mktg | Yes |
| Product Code | 837710 |
| Product Series | Adflo |
| Product Type | Spare Part |
| Standards/Approvals | EN 12941 |
| Typical Application | Metal Processing |

Details
With the right type of filter, the Adflo respirator effectively protects you against both particles and gases - all in one system. Gas filters are sold as separate accessories.
Fully charges in 4,5 hours. Expected operating time is 7-9 hours with new particle filter, new fully-charged battery and a standard airflow.
The airflow is always a constant nominal rate of 170 litres per minute, regardless of the battery's charge or the particle loading of the filter.
For hot, humid jobs, you can increase the airflow to 200 litres per minute by simply pushing the ON button a second time.
The lightweight Lithium-ion battery fully charges in 4,5 hours and has a operating time of 8 hours.
Adflo powered air respirator with self-adjusting breathing tube QRS, airflow indicator, prefilter, spark arrestor, particle filter, and standard battery