Information
3M Speedglas 9100X MP Adflo Air Fed Welding Helmet

The Speedglas 9100 MP (Multi-Protection) Welding & Safety Helmet from 3M has been designed to offer five levels of protection: Eye, Face, Head, Respiratory and Hearing (optional accessory). The 9100MP flips up to reveal a large, curved protected visor for enhanced visibility. This protective visor meets EN 166B making it highly suitable for grinding applications. The integrated top shell is made from heat resistant polycarbonate and meets the latest EN 379 standard for industrial safety helmets. An optional high-visibility aluminium fabric reflects hot sunlight and welding heat. 3M Peltor hearing protection can also be added as an option.


With its smart, compact design, the 3M™ Adflo™ Powered Air Respirator is specially designed to meet your welding needs. Its continuous airflow provides filtered air that takes much of the heat and sweat out of welding. By using the Adflo respirator, you get both increased protection and comfort all day long.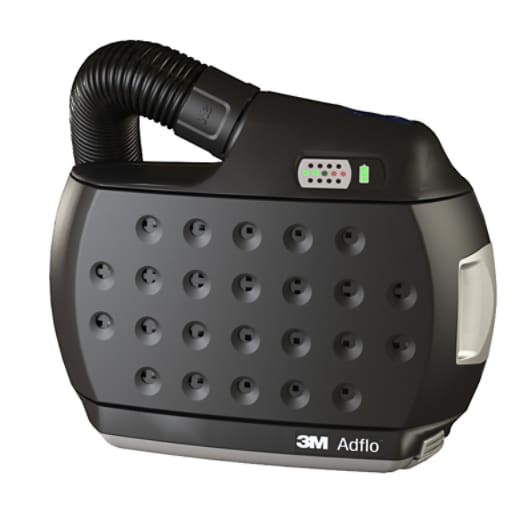 Specifications
| | |
| --- | --- |
| Battery Life | Turbo: approx. 7 - 9 Hours |
| Battery Type | Lithium-Ion |
| Cartridge or Filter Type | Particle filter (gas filter available as spare part) |
| NPVI Mktg | Yes |
| Product Code | 837710 |
| Product Series | Adflo |
| Product Type | Spare Part |
| Standards/Approvals | EN 12941 |
| Typical Application | Metal Processing |
Details
With the right type of filter, the Adflo respirator effectively protects you against both particles and gases - all in one system. Gas filters are sold as separate accessories.
Fully charges in 4,5 hours. Expected operating time is 7-9 hours with new particle filter, new fully-charged battery and a standard airflow.
The airflow is always a constant nominal rate of 170 litres per minute, regardless of the battery's charge or the particle loading of the filter.
For hot, humid jobs, you can increase the airflow to 200 litres per minute by simply pushing the ON button a second time.
The lightweight Lithium-ion battery fully charges in 4,5 hours and has a operating time of 8 hours.
Adflo powered air respirator with self-adjusting breathing tube QRS, airflow indicator, prefilter, spark arrestor, particle filter, and standard battery