Information
Gamma GTH3 SFA RSA 230 PN 9873150

Gamma GTH3 SFA welding helmet, auto-darkening welding filter SA 60, supplied air regulator RSA 230, air hose for RSA 230, flow meter, Gamma leather belt.

Gamma product range represents premium levels of personal protection for professional welders and fabricators. Gamma GTH3 respirator models meet the highest EU classification for respiratory performance (TH3) protecting you from 99.8 % of airborne fumes and particulate. Choose from either fast charging battery powered filter units, providing total independence of movement, or regulated supplied air models, connected to a breathing air source.

Designed from the user's perspective, Gamma GTH3 models include optimum vision performance and unique usability features including Axis regulation and GapView function. For low light working conditions XFA models integrate 70 lumen LED work lights, reaching new levels of safety and comfort for your welding life.

Gamma welder's respirators can lower PPE cost by up to 80 % when compared to separate PPE solutions where disposable welder's filter masks are used.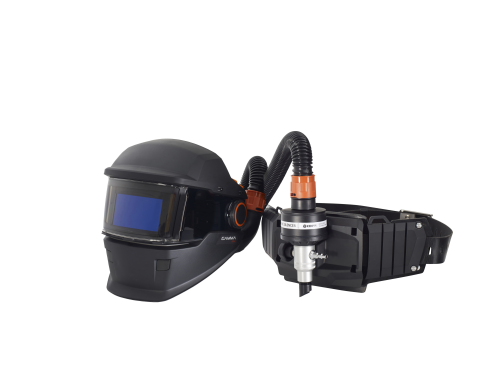 Gamma GTH3 SFA AirlineGamma GTH3 SFA Airline features the automatic welding lens SA 60 ADF. Connected to a certified breathing air source via an airline and belt-mounted regulator RSA 230, Gamma GTH3 Airline models provide an alternative to the battery powered systems.